---
Our freestanding ice maker machine has a split design and is perfect for commercial use! The storage container can store up to 198 pounds of ice cubes. At the touch of a button, you can adjust the thickness of the ice by adjusting the ice making time. Additionally, our ice maker is designed with a thick foam layer for effective thermal insulation. The intelligent LCD control panel with multiple buttons and indicators provides great convenience and safety protection during use. The automatic self-cleaning function is convenient for cleaning, and the ice scoop is convenient for taking out ice cubes.
Main Features
Quick Ice Making and Selected Premium Materials: This commercial split ice maker machine features a high-powered 750W compressor to ensure high ice production, and its 160-piece built-in ice tray can produce 353 pounds per day. Maximum ice storage capacity reaches 198 lbs. This slot ice maker is constructed with a sturdy steel shell, thick foam layer and food-grade liner to ensure effective thermal insulation and a long service life.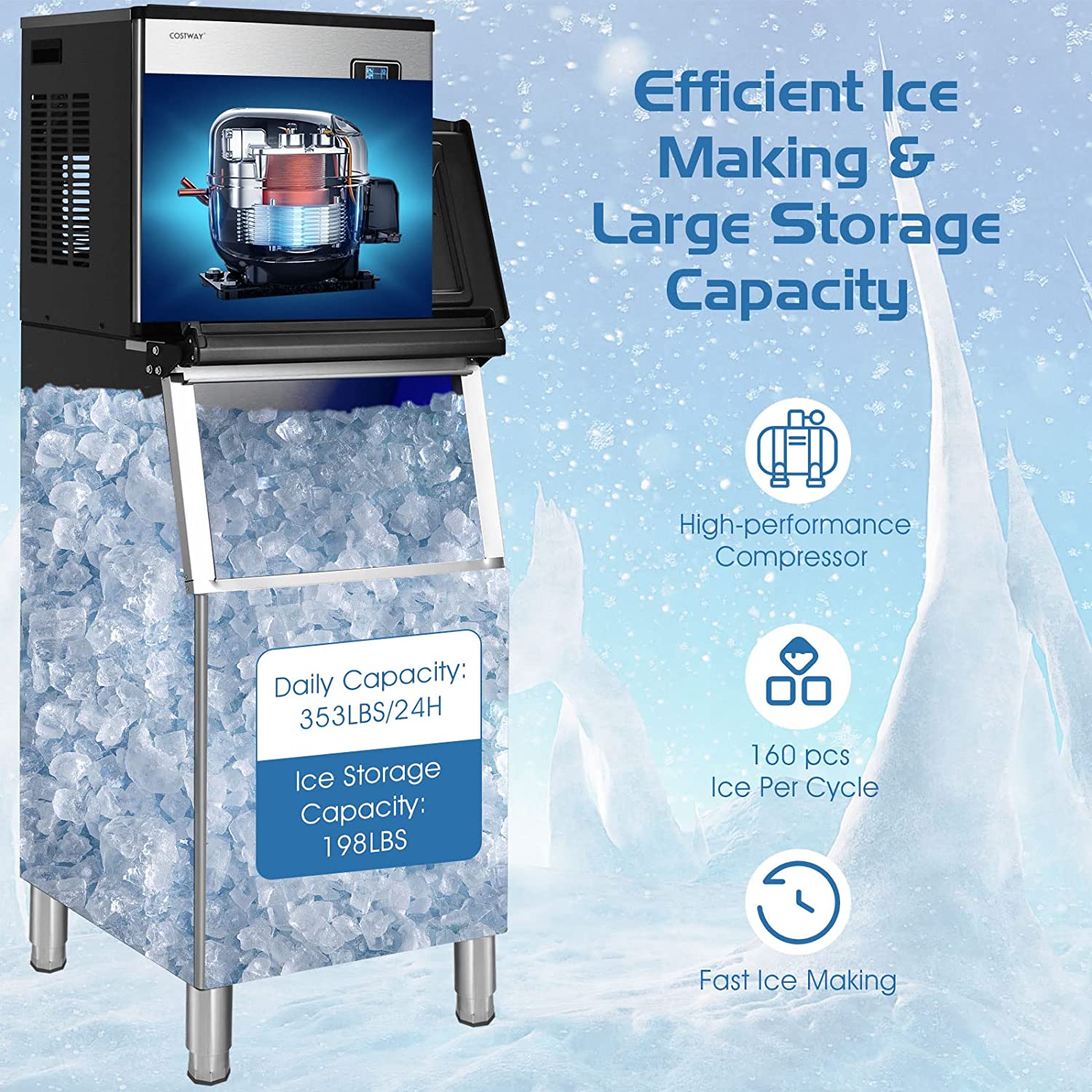 Smart LCD Control Panel: This split ice maker is equipped with an intelligent LCD panel, which is easy to operate. You can let the ice maker clean automatically by pressing and holding the clean button for 5 seconds. And the thickness of the ice cubes can be controlled by adjusting the ice making time. In addition, other indicators are integrated on the panel to remind you of water shortage, high temperature, full ice, etc.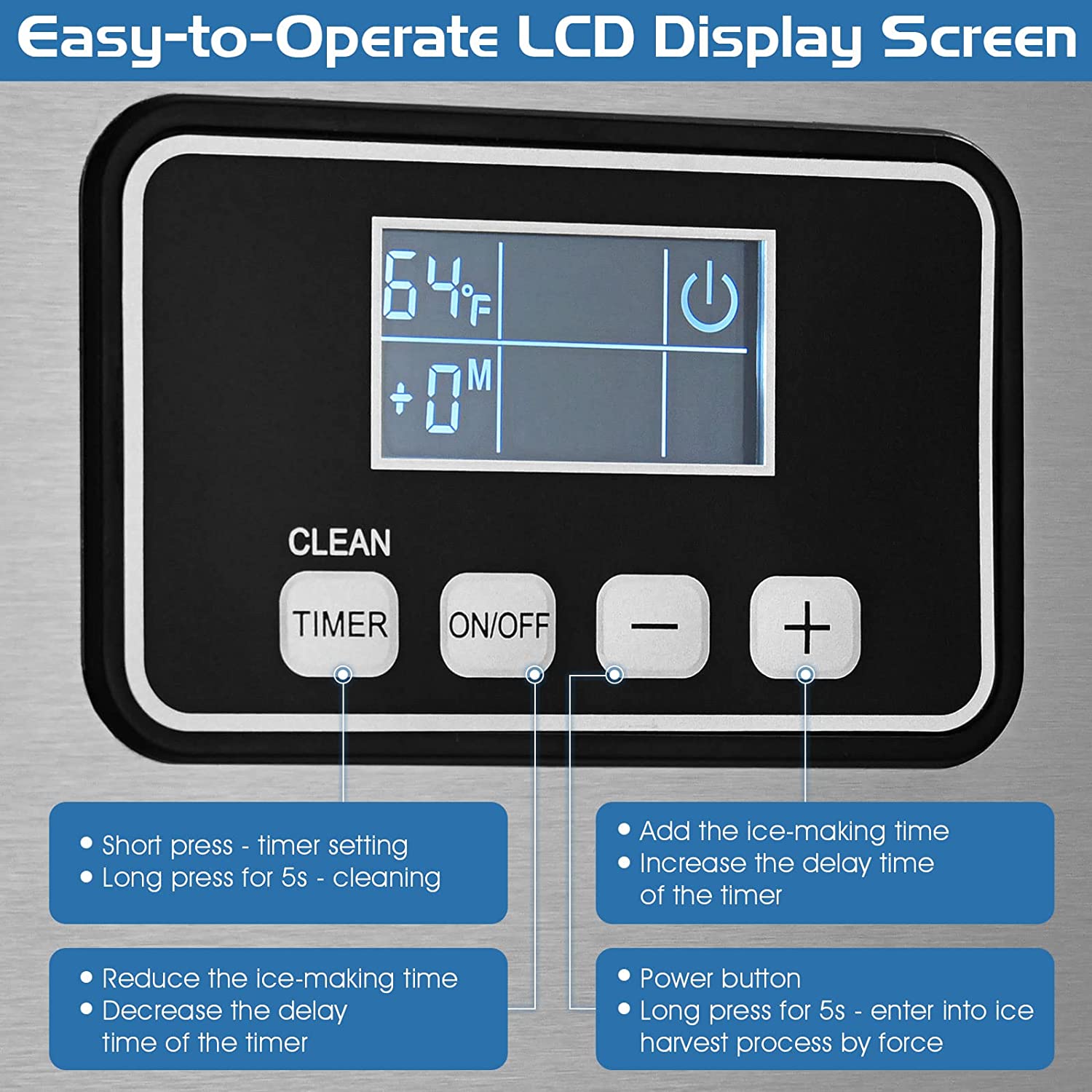 Safety Protection and 1-24 Timer: For your safety, this commercial ice maker has ETL certification, high temperature/water shortage/ice full protection and more. Besides, the built-in timer allows you to set the automatic on/off time between 1 and 24 hours, so you don't have to worry about forgetting to turn the ice maker on/off.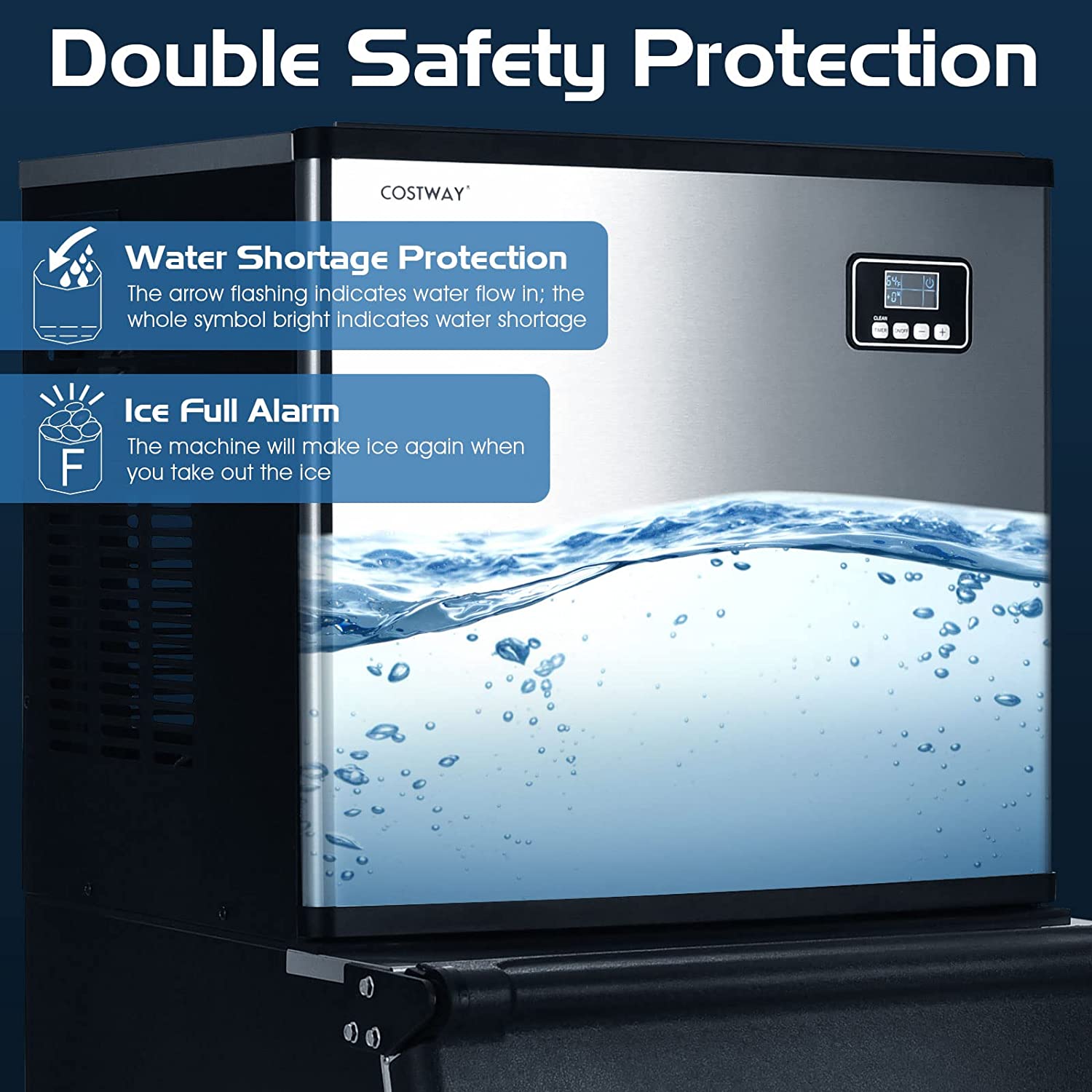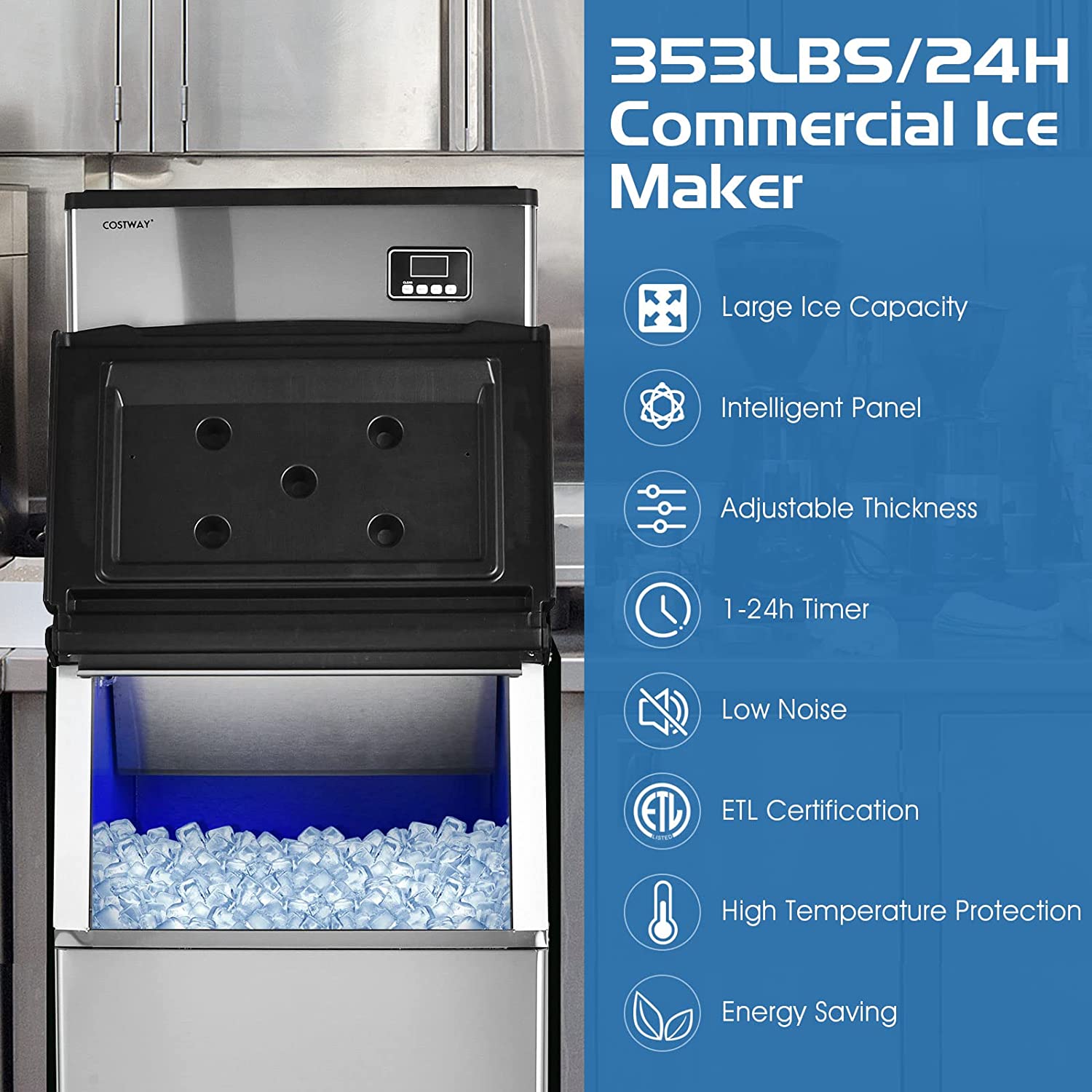 Quiet Operation and Versatile Use: This ice maker works with low noise below 52dB, ensuring a quiet working environment. The ice-making capacity is large and the efficiency is high, which is very suitable for commercial use, such as coffee shops, bars, supermarkets, restaurants, offices, cold drink shops, etc. Besides, the split design lets you place the top half on the bin to save space.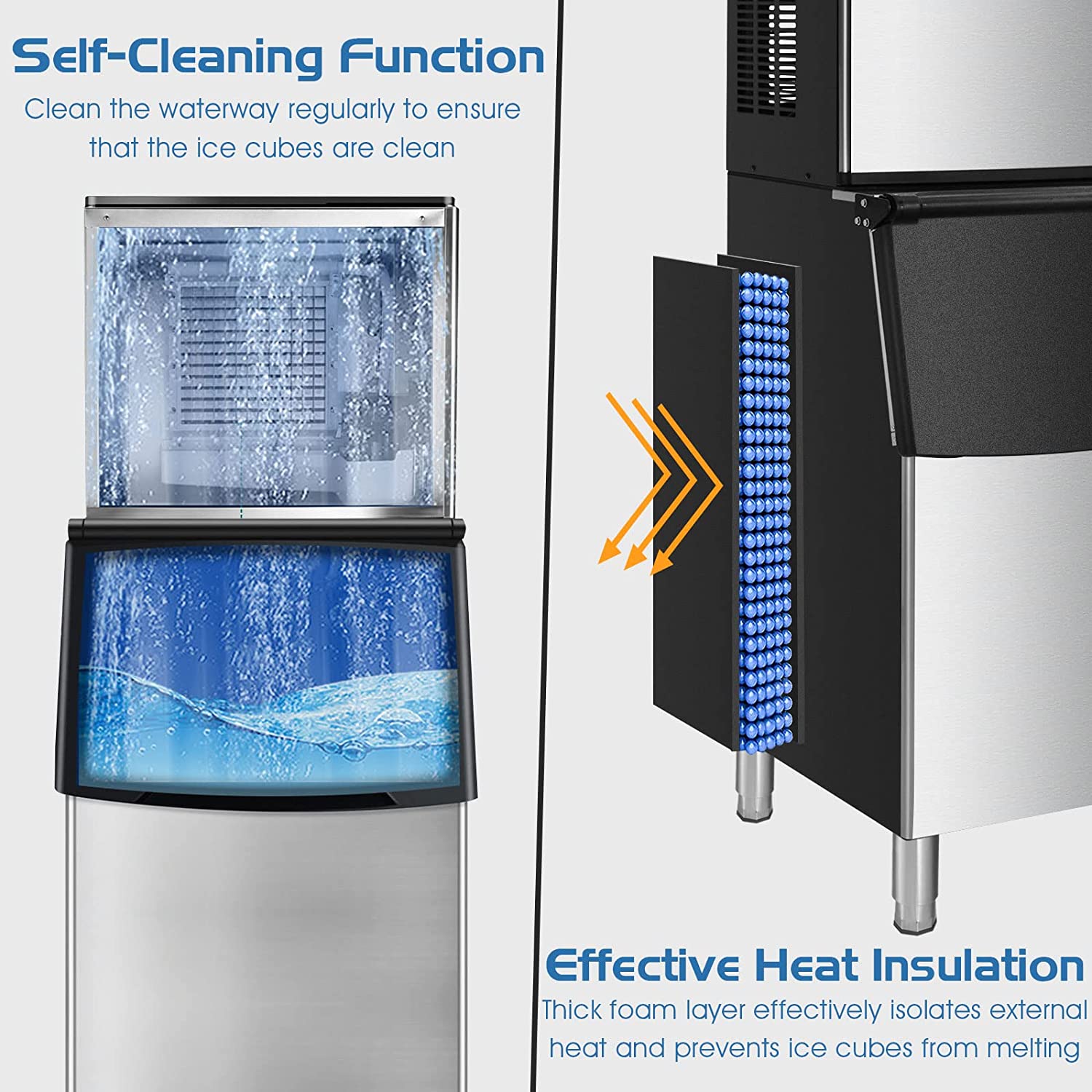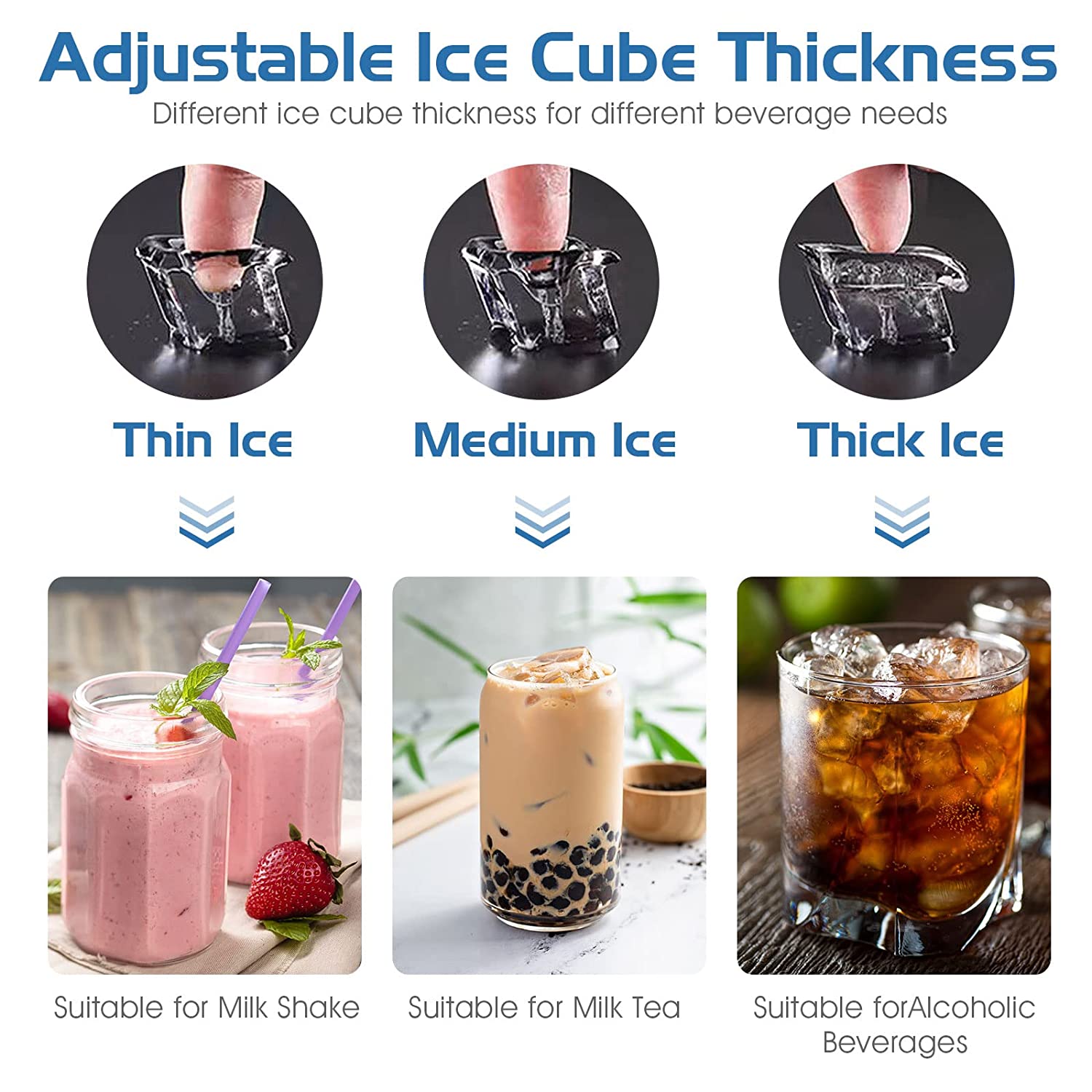 Complete Accessories and Adjustable Feet: This split ice maker machine comes with multiple accessories including ice shovel, water supply hose, drain hose, tape and water quick coupler. Additionally, 4 adjustable feet keep the machine away from ground moisture/water while improving overall stability.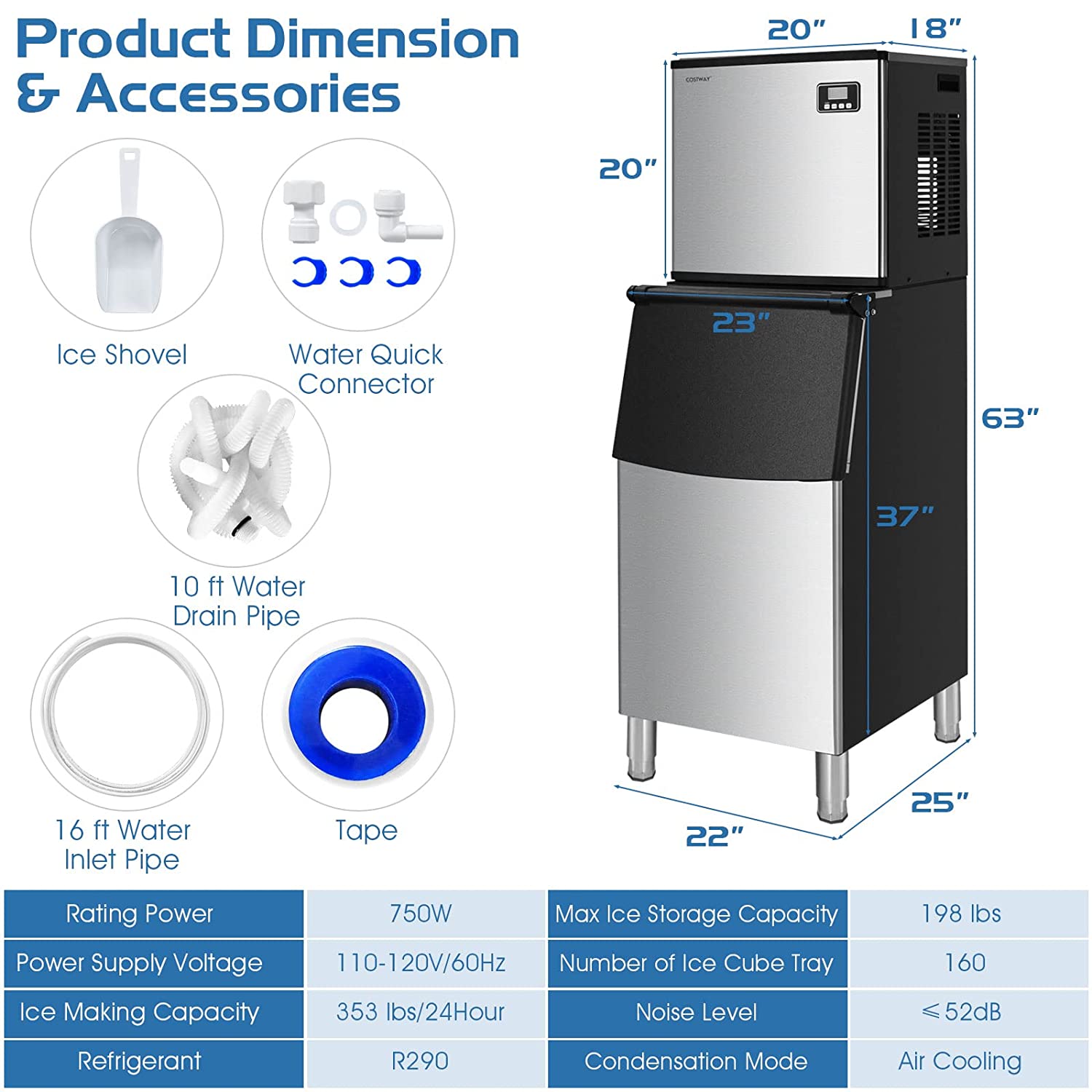 Specifications
Color: Black, silver
Material: Iron
Product dimension: 25" x 22" x 63" (L x W x H)
Ice cube size: 0.9" x 0.9" x 0.9" (L x W x H)
Rating power: 750w
Power supply voltage: 110-120v/60hz
Ice making capacity: 353 lbs/24hour
Max ice storage capacity: 198 lbs
Number of ice cube tray: 160
Water consumption: 33 gallon (150l)/24hour
Refrigerant: R290
Noise level: ≤52db
Condensation mode: Air cooling
Net weight: 139 lbs
Package includes
1 x Commercial split ice maker
1 x Ice shovel
4 x Adjustable feet
1 x 16 ft Water inlet pipe
1 x 10 ft Water drain pipe
1 x Water quick connector
1 x Tape
1 x User manual