Regular price
$ 115.95 USD
Regular price
$ 47.09 USD
Sale price
$ 115.95 USD
Unit price
per
Sale
Sold out
The power of revolutionary LED light therapy of SPAs now in the comfort of your home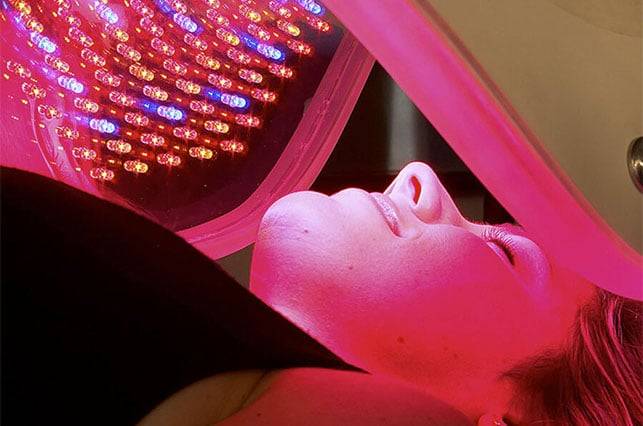 Saves Time & Money - One of the many downsides of relying on a cream or topical treatment to achieve & maintain healthy skin is that you will always have to keep buying MORE. The DermaLight™ Mask is a one-time investment into a lifetime of healthy, clear skin!  
Safe & Non-invasive- The light is very gentle and does not harm the skin. The DermaLight Pro LED mask does not use ultraviolet (UV) and is therefore safe for the skin.
100% Natural - The DermaLight LED mask stimulates and accelerates your skin's natural healing capabilities. 
Backed by Science - With over a decade worth of scientific research and having been used by organizations and federal agencies such as NASA to aid in skin recovery, the effectiveness of LED light therapy isn't really up for debate. 
Dermatologists and spas across the globe are all starting to use LED light therapy and the results have been absolutely astounding!
Functions:
Reduce and prevent wrinkles, helps fight fatty areas.

Improve skin elasticity, whitening, and minimize pores.

Inhibit the formation of melanin pigment

.

Accelerate blood circulation, boost sleeping quality.

Minimize scarring and repair Skin.

Relax and elevate the immune system.

Improve blood circulation. It helps to activate the collagen

.

Promote skin collagen growth to make the skin more translucent and white.

Tighten pores, making the skin firmer, improve skin brightness, more smooth and elastic.

Effectively accelerate skin metabolism rate, promote the excretion of toxins of skin.

Promote skin permeability, increase oxygen to lock skin moisture.

Promote blood circulation, lighten freckles and red bloodshot.
Voltage: 110v-240v, 60Hz/ 50Hz

Product Weight: 1.8kg(With Original Box)

Number of leds: 192 LEDs

Colors of Lights: 7 Colors

Output voltage: DC10V 2500mA

Output power: 20W (Max)
How to use:
Step1: Plug the USB connector at the end of the wire of your LED MASK.

Step2: Clean your face, wait till it dries. This makes it easier for light to penetrate your skin.

Step3: Put on your Mask. Make sure that you wear it comfortably.

Step4: Turn on your Mask and you will see a tinge of red light covering the whole mask.

Step5:15 minute once.
Note: the light is at low-level intensity. You may close your eyes if you feel like a little unwell.
Step5: Keep your LED Mask close to your facial skin.
You can also change different colors with the remote.
Special Instructions:
If you want the mask effects better, we suggest you use professional relational skin care product at the same time, the led light will promote the assimilation of skincare product, enhances the efficacy of skincare product.
You will not immediately see the effect, it needs some time to repair your skin, so keep using it and be patient.
Use at lightest intensity of the Microcurrent at the first time. If you use the highest intensity at the first time, your skin may get shocked.
If your face has a wound, We do not advise using this micro-current function until the wound recovered.
Turn on the power after wearing the mask, turn off the power before taking off. Do not look straight to the led light, otherwise, your eye may get hurt.
People who can not use this mask: Pregnant women, children, Thyroid disease, Light allergic person, use of drugs can cause allergies.
Operational Cautions:
Recommend to use for 15-20 mins per day
Do not stare at inside when operating
Do not try to use it with a wet hand.
Included:
GET YOURS NOW BEFORE IT'S SOLD OUT!
Please allow 10-21 business days for the item to arrive, depends on your location.
View full details