---
Are you tired of your recliner cover, which moves with your movement and is uncomfortable to sit on? This recliner chair cover is the solution. Its soft and comfortable fabric enables you to enjoy your time sitting on the chair and protect it from dust and spills.
What you will you get:
Single-piece design: Instead of multiple pieces stitched together after hectic measurement of the recliner chair, this recliner cover is made of just one piece that's super easy to install and remove. Moreover, its elastic-bandage design makes a firm grip on the chair.
Comfortable and warm: The breathable poly fleece fabric keeps you warm in winter and cool in summer.
6 large pockets: It has two large pouches on both sides to keep your magazine, TV remote, AC remote, glasses, etc. near to you.
Protection: Unlike fabric and parachute covers that have to be tailor-made and are uncomfortable to sit on, this recliner chair cover is the best protection for your recliner chair from dust and damage.
Advantages:
Perfect protection against spills, stains
Easy-to-access pockets on both sides
Easy to install, easy to clean
Keeps you warm in cold weathers
Machine washable
Features:
Simply place this Recliner Chair Cover over your favorite fabric recliner to turn it into the most comfortable seat in the house! 
Recliner Chair Cover is a poly-fleece cover that will fit over the head, arms, body, and footrest of virtually any large reclining chair, which will protect that chair from becoming covered in stains or pet hair and will cover up any past stains or worn upholstery.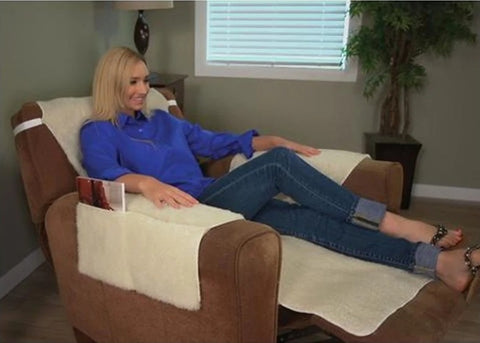 While some types of chair covers are divided into different pieces that cover each part of the chair, but our Recliner Chair Cover comes in one piece. Hence, you'll be able to very quickly transfer yours between different chairs or even different rooms when you choose to.
Each of these covers contains four easy access and convenient pockets that you can use to store a remote control, a cell phone, a pair of glasses, your keys, or any other object you want to keep at hand, no more find yourself frequently searching for misplaced objects.
Made from breathable poly fleece, our Recliner Chair Cover won't trap too much heat, it's also soft to the touch, so it'll feel comfortable against your skin as you sit on whatever chair you've added your cover to.
Keeps You An Ideal Temperature
When you're cold, you can wrap the excess fabric from its edges around you to warm up, treating it as a cozy blanket. Besides, the breathable nature of the cover's fabric will help keep you warm in the winter and cool in the summer.
Fortunately, when you slide one of these one-piece covers over your reclining chair, you'll be able to let your dog or cat climb that chair without being concerned about damage. Also protect your chair from potentially damaging spills, such as wine or coffee spills.


Specifications
Material: Poly-fleece
Product Weight 600G
Length 190cm Width 65cm / 170cm
Package Size 44 × 33 × 11cm
Package Contents 1 × Recliner Chair Cover