Regular price
$ 74.99 USD
Regular price
$ 187.99 USD
Sale price
$ 74.99 USD
Unit price
per
Sale
Sold out
Now you can finally treat your entire body to relaxing acupressure therapy from the comfort of your home!

INSTANTLY FEEL REFRESHED AND FULL OF NEW ENERGY!
With thousands of needle-like points, the Pillow Yoga Mats acupressure mat instantly improves blood circulation and starts releasing tension within seconds. Within minutes, the acupuncture mat begins to relieve pain throughout the body - and puts the body in a state of calm and relaxation.
The acupressure mat and the acupressure pillow set can reduce muscle soreness and increase the level of endorphins. They can also increase the level of oxygen uptake in your body, which improves the quality of sleep, digestion, and metabolism. Acupressure has been used in Traditional Chinese Medicine for thousands of years to promote relaxation, wellbeing, and to treat illnesses. Feel reborn by using our acupressure mat and pillow set from the comfort of your home for just 10-20 minutes a day.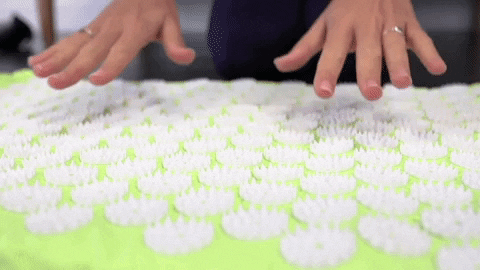 HOW DOES OUR ACUPRESSURE MAT & PILLOW WORK?
Simply lay or stand on the mat in the desired position with the desired location on your body. Enjoy a short or long session as the acupressure mat soothes your pain with built-in pain healing technology.
Put the mat on any floor, chair, or table for maximum tension release. Pressure points on your body will begin to feel the soothing healing potential of this acupressure mat. 
Accupressure mat works in a very similar way to the art of acupunture in that is helps stimulate energy as well as envoking a sense of well- being.
Acupressure is an evidence-based treatment, results of scientific trials after two weeks of daily use:
 ✅ 98% of users reported pain relief
 ✅ 94% experiencing improved sleep 
 ✅ 96% reporting an overwhelming feeling of relaxation
EFFECTIVE PAIN REDUCTION
Good health is priceless. Our acupuncture mats have helped hundreds of people, old and young, get relief from neck pain, back pain, stress, anxiety, fibromyalgia, and more. Acupressure releases endorphins, which block pain and help relax the muscles in your back, neck, and feet.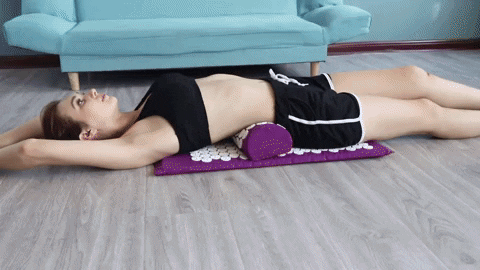 ENJOY DEEPER SLEEP. WAKE UP MORE REFRESHED!
Simply lie down on your acupressure spiked mat and pillow for a relaxing, our mat uses your body weight to increase blood flow and penetrate deep into the belly of your muscles, giving you the feel of a professional massage in the comfort of your own home.

100% SATISFACTION GUARANTEE:
Here at HexoCare™ we believe in the effectiveness of our work and the quality of our products. Therefore we offer all our customers 100% satisfaction guarantee. If for whatever reason you decide that you are not satisfied with the product or the quality after 14 days from receiving it, then contact our customer support and we will help you returning your product and get a complete refund, no questions asked!
View full details