Regular price
$ 29.99 USD
Regular price
$ 59.99 USD
Sale price
$ 29.99 USD
Unit price
per
Sale
Sold out
CLEAN YOUR FEET EFFORTLESSLY IN SECONDS
We all know it. It's either ourselves or someone we know. There are barely things that are more awkward, embarrassing and uncomfortable than the odor of sweat stained feet.
NO MORE FOOT ODOR AND ATHLETE'S FOOT FOR YOU!
It's a very common issue for children and adults who wear shoes on a daily basis and chances are high that you also struggle with the smell that your feet spread after a long day with shoes on yourself.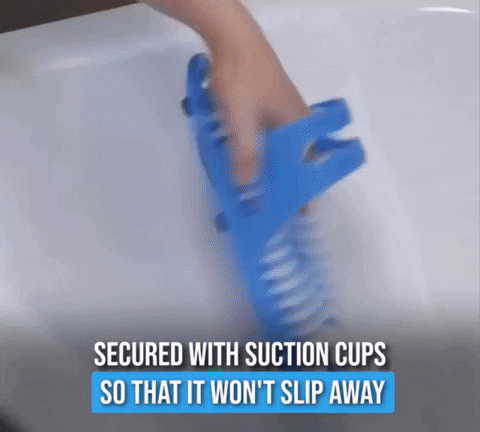 INTRODUCING THE HEXOSCRUB™
The HexoScrub™ Foot Cleaner enables you to avoid all the issues above and leaves the struggle of having foot odor behind you.
It is build like a big flip flop and includes over 1000 soft cleaning bristles from which some are positioned between your toes to also properly clean this area that is so hard to clean in the conventional way.
Secure the foot cleaner with the suction cups that are placed on the sole to any tub or shower so that it won't slip away. Now you only need to move your foot back and forth on the bristles to properly clean it.
EVER HAD A FOOT MASSAGE WHILE WASHING YOUR FEET?
The HexoScrub™ Foot Cleaner has a well positioned pumice stone to effectively remove rough skin to soften Cracked Heels. But it is not just the functional aspect that convinces. Enjoy the feeling of a foot massage that the soft pumice stone adds to your cleaning routine. It is a combination of functionality and wellness that was able to help and satisfy so many people already around the globe.
It is not the type of invention you would expect a foot cleaner to be, but from now on you should expect nothing less!
100% SATISFACTION GUARANTEE:
Here at HexoCare™ we believe in the effectiveness of our work and the quality of our products. Therefore we offer all our customers 100% satisfaction guarantee. If for whatever reason you decide that you are not satisfied with the product or the quality after 14 days from receiving it, then contact our customer support and we will help you returning your product and get a complete refund, no questions asked!
View full details