---
Are you looking for a suitable cage for your pet? This 59" Bird Cage Pet Supplies Metal Cage with Rolling Stand is great for activity and mental stimulation in your pet bird. The interactive access doors allow for the ability to easily add toys and treats into the cage. Also included two wood perches and two food and watering cups for your bird's feeding needs. Moreover, you can draw out the bottom tray of this cage and clean it. So what are you waiting for? Just buy it to your beloved pet!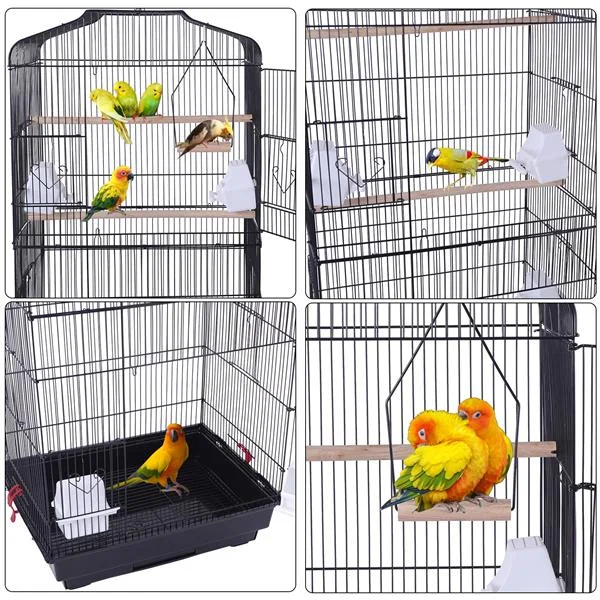 【SPACIOUS CAGE】 - This bird cage has 4 perches that the birds can sit on and play. Tall stand for higher cage situation where birds love to stay.
【SAFE & STURDY】 - This Bird Cage is made of wrought iron that makes it a sturdy and durable bird cage,selected materials with fine workmanship ensure great to wear, corrosion, and rust resistance. Powder-coated with non-toxic and lead-free paint.
【PORTABLE & STABLE】 - 4 heavy-duty casters guarantee high load capacity and help you move it around with ease.Moreover,it can be detachable,there is a handle on the top of the cage, User-friendly.
【COMPOSITE DOORS】 - Large doors for large size birds or for easy inside decorations; small doors specially designed for small size birds.1 composite door for each tier and the arc design on each door for keeping birds safe in the cage.
【SPECIAL DESIGN】 - 1 storage shelf Under the cage,suitable for placing bird feeds, toys, and cleaning tools, handy and organized, which makes feeding convenient.
【THOUGHTFUL DESIGN】 - Comes with 4 feeders for different kinds of feeds and the special design of heightening the sides of the feeder can prevent the bird from tossing and dropping the feeds
【KEEP CLEANING】 - There is a removable pull-out tray to collect wastages. Easily washed when dirty to keep your bird's home fresh and clean at all times.
【Ideal for small to medium-sized birds】
Sturdy enough to handle your birds' bites and harsh weather conditions, this cage will protect them for years to come. Your birds will be living large in their roomy new place!
Specifications:
Material: Iron
Size: 14"(W) x 18"(D) x 59"(H)
Overall Height Including Stand: 59"
Bar Spacing: 0.4"
Hight Without The Stand:32"
Your feathery friends will have the perfect home with this spacious birdcage.
It's the ideal size for Caciques, Conures, Jardine's Parrot, Meyer's Parrots, Pionus, Poicephalus, Red-bellied and other similar size birds to perch and live comfortably.